Bruce Arians Talks "Fear"
April 2nd, 2019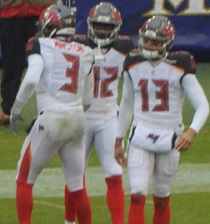 In NFL circles, there is a real and positive buzz about the Buccaneers — believe it or not.
Joe believes it, even in the season of smoke, because Joe looked the man saying it in the eye when he shared the info.
JoeBucsFan.com: Coach, from the Combine and here [at the NFL Owners Meetings in Phoenix], talking to all the other coaches that you've been mingling with, what's the biggest thing you're hearing about your team? What are they saying about your roster?

Bucco Bruce Arians: How much they fear the receiving corps and the quarterback. They know the talent on the defense and the speed in that secondary as as group. I think what we're going to do with them is going to be more advantageous to them," Arians said. "Get up. I got you. Beat my ass. We're not sitting back read-and-reacting, schemes and stuff. We'll have some of it, but we gotta get in your face and play man-to-man and get after you. I think it lets their personality come out more.
Arians went on to add he heard a lot of "Oooh, you got Perriman" from his peers, referring to the Bucs' new speedster wide receiver who caught 16 balls with the Browns last year for more than 20 yards per reception.
Joe's going to resist being a cynical wiseguy here and celebrate the reality that the Bucs can move the ball and put up points. If they can do the latter just a little better than last year, they'll be on their way to a bounceback season.
As Joe wrote previously, through the last eight NFL seasons, teams averaged 27 or more points per game 37 times. And only five of those teams missed the playoffs. The Bucs scored 24 points per game in 2018.