44 Pictures, No JPP Or McCoy
April 1st, 2019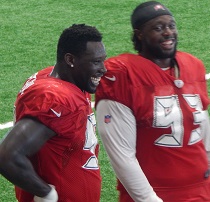 UPDATED: 1:27 p.m. – Your Buccaneers are back to work today.
But perhaps not all of them?
Joe is at One Buc Palace and there is no official word on what players are here. It's not something the Bucs broadcast and head coach Bucco Bruce Arians isn't speaking to media today, the first day of team reporting for the 2019 season.
It's an optional day for players, but is anything really optional in the NFL?
Anyway, on the team's official website, a photo gallery was published of players arriving for work this morning. Forty-four pictures were published and there's no sign of Gerald McCoy or Jason Pierre-Paul in that mix. McCoy loves the camera and JPP is hard to miss. So that could be noteworthy.
JPP, of course, was allergic to offseason workouts last year but it didn't affect him on the field.
It sure would be interesting if McCoy stays home after Arians and GM Jason Licht poured cold water on his value over the past two months.
Joe will update this post if more info becomes available.
UPDATE: Beat writer Rick Stroud Twittered eight minutes after this post went up that McCoy did not attend today's reporting-related events at One Buc Palace. Still time for McCoy to show up, though.