Unimpressed
April 20th, 2019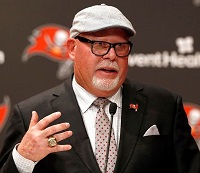 One BSPNer isn't buying the hype.
Bucco Bruce Arians is known as an offensive wizard, a quarterback guru.
Mike Clay isn't buying it.
Clay traffics in numbers and believes America's Quarterback, Jameis Winston, is on the upswing based on last year. However, looking at Bucs defensive coordinator Todd Bowles and Arians' recent past, Clay writes the numbers suggest the Bucs this fall will be, well, the Bucs.
If one is willing to fly to Vegas, Hoboken or talk to their local friendly short-term investment broker, take the under on the Bucs' win total this fall, currently at six wins, he says.
Tampa Bay has reached seven wins once the past six seasons. New head coach Bruce Arians' offenses have finished below average in touchdowns in eight of his past 10 seasons as a head coach or offensive coordinator. Jameis Winston was suspended and benched last season but completed 65 percent of his passes and was off-target on 16 percent of his attempts, both career-best marks. The Buccaneers' defense has finished 21st or worse in points allowed seven of the past eight seasons. New DC Todd Bowles' past three defenses have finished 22nd or worse.
Yes, the Bucs defense should be better than last year. How can it not?
Well, Bowles' Jets defense allowed 300-plus points over the last 10 games of 2018; the Bucs' defense allowed 268 points in over its last 10.
But Joe does find it interesting that Jets fans Joe has come across are a whole lot more down on Bowles as a defensive coach than those Joe has spoken to that make a living in the Fourth Estate.