Ex-Buc Predicts A 2-13-1 Season
April 20th, 2019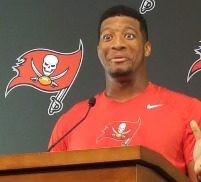 Joe has noticed a theme pulsating through a chunk of Bucs fans and a big share of media.
There's a lot of disrespect and doubt of America's Quarterback, Jameis Winston, the man poised to earn $30 million next year if he has a good 2019 campaign.
Take prominent ex-Buccaneer like guard Ian Beckles (1990-1996). He was spouting on WDAE-AM 620 this week that he thinks the Bucs will finish 2-13-1 following his review of the Tampa Bay schedule. It wasn't a one-off take, Beckles repeated the call and kept the option to change his prediction before the season.
But why 2-13-1?
Joe has heard other media talk about the Bucs as a six-win team and a share of fans (certainly not all) see the Bucs in that ballpark, too.
Whether its a two-win prediction or six, it tells Joe there's little confidence around town in the starting quarterback.
An accomplished head coach is in the driver's seat with a proven offense, and the Bucs have plenty of weapons. The defensive coaching has to be better, alongside an inevitable defensive talent upgrade in the draft. So shouldn't that have Bucs fans and analysts thinking strong quarterback play will deliver at least a .500 record?
A strong QB will just about single-handedly win his team one or two games a year.
Anyone thinking now that the Bucs are a six-win-or-less team, Joe believes, is someone who thinks Jameis sucks or will be injured during the season. Nothing else adds up.