The Real McCoy
April 23rd, 2019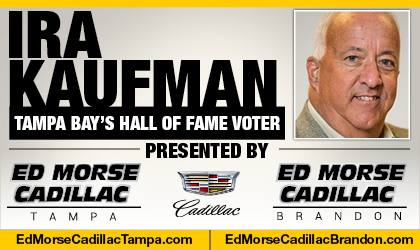 BY IRA KAUFMAN
The record will show that Gerald McCoy played his final game as a Buccaneer on Dec. 30, 2018 in a 34-32 home loss against Atlanta.
It was his 123rd start in pewter and, as usual, Tampa Bay's defense was subpar, allowing the Falcons to roll up 27 first downs and 489 yards in the season finale.
By their actions and by their words, the Bucs have decided to move on from McCoy, and that's their right as an organization. What is not right is for Buc fans to regard McCoy as an underachiever during his nine seasons.
The third pick in the 2010 draft is likely to be shipped out this weekend, used as a draft-day bargaining chip to move up. At the age of 31, McCoy's best years are behind him and Tampa Bay can't justify his $13 million salary.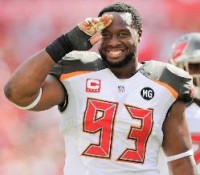 But per usual at One Buc Place, McCoy's departure is already messy.
A 6-time Pro Bowl defensive tackle deserved a graceful exit because one day McCoy's No. 93 will hang from the rafters at Raymond James Stadium, where there have been too many jeers and not enough wins.
McCoy's Curse
This franchise has been going since 1976 and the only defensive players with more Pro Bowl berths as a Buccaneer are Derrick Brooks (11) and Warren Sapp (7). Both of those gentlemen sport gold jackets and while McCoy won't get a bust in Canton, he's hardly been a bust as a pro.
McCoy's curse is he isn't Sapp and his football team usually isn't very good. What he's been is durable, productive and an exemplary representative for this organization off the field.
Suh has probably been the better pro, but he'll be playing for his fourth team this fall when he signs as a free agent. He's still out there, despite his 56 sacks, 166 QB hits and 107 tackles for loss.
At least Suh has played in six playoff games, posting 5 sacks, 5 tackles for loss and 10 QB hits, while McCoy has gone nine years without a meaningful January matchup.
That doesn't mean he hasn't made an impression.
"Gerald McCoy's a workhorse," says Drew Brees, "a force to be reckoned with."
Carolina's Trai Turner, one of the NFL's premier guards, says McCoy is "a great competitor and a great player. You've got to have a plan."
Tampa Bay's plan is to move McCoy out and let Vita Vea flex his muscles inside. And it would shock no one if the Bucs chose a defensive lineman with the fifth pick Thursday night as new coordinator Todd Bowles reshapes a battered unit.
The Legacy
His detractors won't want to hear this, but in another year, McCoy figures to receive strong consideration as an All-Decade player. Four defensive tackles will be chosen and McCoy should be in the mix along with Suh, Geno Atkins and Fletcher Cox, behind Aaron Donald.
What are the primary knocks on McCoy?
He's too nice … he lends a hand to pick opposing players off the ground. I've never heard anyone say that to belittle Lee Roy Selmon, who proved you don't need a nasty streak to be elite.
He doesn't have a signature play in the past nine years. Guess what Buc fans? Neither does your football team.
McCoy has enjoyed a very good NFL career, and he's not finished unless he wants to be. He won't make $13 million in 2019, but he can prove to be a worthy addition for a quality team like the Chiefs or Eagles.
Can't you see McCoy reporting to Kansas City's training camp in that trademark kimono, eager to reinvent himself for a 12-win team? McCoy deserves a shot at the postseason and Buc fans shouldn't begrudge him.
He's not Sapp. He's not Suh. He's not Aaron Donald.
But he's been the real McCoy and now it's time for a fresh start. Wish him well, Buc fans, and hope Vita Vea can fill his cleats.
Ira Kaufman began covering the NFL as a New York Giants beat writer in 1979. He arrived on the Buccaneers beat in 1985, and the corporate leash finally was removed from his neck when he joined JoeBucsFan.com in July 2016. The award-winning Ira Kaufman Podcast fires twice per week, and Ira's columns appear thrice weekly, except when Ira is on special assignment. Tampa Bay's only Hall of Fame voter also is a popular guest on various national radio and on local TV.