Corey Ivy: Vernon Hargreaves Best In The Slot
April 22nd, 2019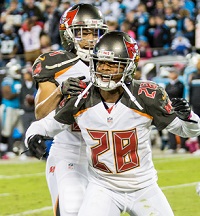 Where does Vernon Hargreaves belong on the football field?
And why does that seem to be such a tough question surrounding the career of the 11th pick in the 2016 NFL Draft?
You don't draft a cornerback No. 11 overall to play the slot, but loud voices in the prior Bucs coaching regime thought Hargreaves was best suited there. And add former Bucs cornerback Corey Ivy (2001-2004) to that chorus.
After leaving Tampa Bay, Ivy went on to play for the Rams and Ravens. His nine-year career included nine playoff games and a Super Bowl ring.
He got into coaching following retirement and was an Arizona coaching intern for Bucco Bruce Arians and Todd Bowles in Arizona before coaching in Baltimore. Ivy now lives in the Orlando area and is working with the University of Central Florida, so he told something called the 3rd Prize Podcast this week.
In chatting about the Bucs, Ivy was clear he believes Hargreaves is best suited to the slot corner role where Ivy thinks he can best use his quickness.
Of course, Arians' recent comments reveal he thinks Hargreaves is a budding stud outside cornerback who will press receivers and be just fine on islands in Bowles' blitz-happy scheme.
Joe is trembling typing the following: Hargreaves is the best Buccaneers cornerback in a division with Drew Brees and Matt Ryan, and a Bucs defensive backfield with an unimpressive safety corps.
Joe sure hopes the Bucs have a late personnel trick up their sleeves for a quality defensive back addition (kinda like T.J. Ward 2017, except a guy who can actually play better than he stashes marijuna).
But more important, Joe hopes the Bucs place Hargreaves where he can play his best football, even if that means giving up the dream of him playing outside corner.