Team Glazer Talks Dirk Koetter
April 5th, 2019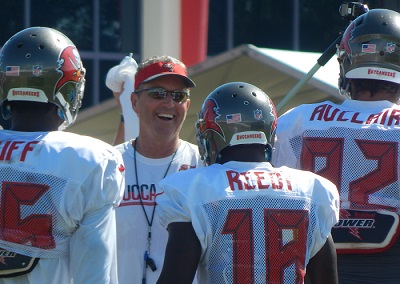 "The evil that men do lives after them; The good is oft interred with their bones." ― William Shakespeare, Julius Caesar.
How will history look back at the Dirk Koetter regime? That's unclear, but it will be a lot clearer in eight months.
We already know general manager Jason Licht appreciates Koetter for helping build one of the greatest offenses in the history of professional football. Yes, that's how Licht evaluated the 2018 offense.
In the world of the Bucs, head coaches get fired and ownership doesn't have much to say about it. They move on to what's really important — what's next.
But Joe thinks it is important, as well as entertaining and enlightening, to look back. What lessons were learned? What worked and what didn't? And heck, fans invest mountains of time and money learning about head coaches and bonding with them, Joe thinks fans deserve a proper goodbye after the breakup. It's reasonable. It's human.
Back at the NFL Owners Meetings last week in Phoenix, Joe asked Team Glazer to reflect on the Koetter regime. And thankfully, Team Glazer didn't drop the ol' Warren Sapp line, "next question."
JoeBucsFan.com: I know you don't want to look back, but with every regime, coach/GM whatever, there's a lesson or something you take away that might have been a learning experience, something you bring forward. The last regime, is there something that learned from that totality of Dirk Koetter's time that you bring forward?

Buccaneers Co-chairman Joel Glazer: I like to focus on the positives. And while things didn't work out the way Dirk would have wanted or we would have wanted. Dirk was a quality individual. He was a pleasure to work with. And I know one thing, when you work with good people, you hate to have to make a change. And Dirk was a good person.
So what did Bucs officials really learn from Koetter's time?
Hopefully, they at least learned that loyalty to washed out assistant coaches and players who don't want to be here, in addition to second-rate players, is a fast way to bury a team.
He's back! Departed Bucs linebacker Cameron Lynch joins Bucs legend Derrick Brooks for this Part II edition of TAMPA TWO presented by Caldeco Air Conditioning & Heating, a presentation of The Identity Tampa Bay and JoeBucsFan.com.