Scouting Legend Says Bucs A Fit With Damien Harris
April 5th, 2019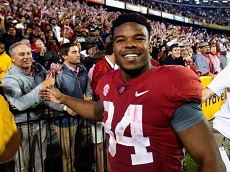 Wait a minute, a hero in the scouting community doesn't seem to think Peyton Barber is a three-down running back?
Well, perhaps Barber will be too tired for pass catching because Bucs officials see him gaining 1,300 yards on the ground this season.
Regardless, the Bucs are paper thin at running back, and it's worth noting that Jacquizz Rodgers has no team.
NFL scouting godfather and Hall of Famer Gil Brandt says the Bucs should attack the third-down back position in the NFL Draft and the other Alabama running back, Damien Harris, is their guy.
Damien Harris: Tampa Bay Buccaneers

Tampa tied for 30th in the NFL last season in average yards per carry (3.9) and average rushing yards gained on first down (also 3.9). New head coach Bruce Arians said he wants to build around Peyton Barber, but Barber has yet to demonstrate he'll be able to play a major role in the Bucs' passing attack, finishing last season with a career-high 20 catches. 2018 second-rounder Ronald Jones, meanwhile, was a disappointment as a rookie, finishing with 44 yards on 23 carries in nine games. Tampa will likely use its first two picks (Nos. 5 and 39 overall) to address defensive needs, but it would make sense to look for a pass-catching back as early as Round 3. Enter Harris, who proved to be a steady player capable of running inside or outside and excelled at catching the football for the Crimson Tide.
Joe likes that Harris only had 477 carries through four Alabama seasons. That's a guy with fresh legs but limited wear is no reason to draft a guy. Harris can play and he is a true dual threat, but Joe isn't sure the guy can be special. Maybe he trickles into Round 3 for the Bucs. Doubtful.
Below is a peak at Harris from the NFL Scouting Combine, complete with the hurdle finish.
Beware of hurdling RBs at the #NFLCombine 👀@DHx34 getting up!

📺: 2019 NFL Combine Day 1 | Live on NFL Network pic.twitter.com/3BQQX631kQ

— NFL Network (@nflnetwork) March 1, 2019