Report: Browns Interested In Gerald McCoy
April 29th, 2019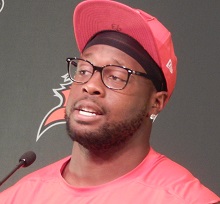 Many Buccaneers fans will go to bed hanging on the words of Steve Doerschuk tonight.
The Browns beat writer for the Akron Beacon Journal/Canton Repository has typed that Cleveland general manager John Dorsey wants Gerald McCoy and is interested in trading for him.
What Doerschuk doesn't type is why Dorsey would trade for McCoy when he likely can get him on the free agent market at a lesser price after the Bucs eventually cut him. McCoy is due $13 million this season.
Of course, if Dorsey wants McCoy then he has little risk in dealing for him. The Browns have the cap room, as well as two sixth-round picks and two seventh-rounders in the 2020 NFL Draft.
There's also versatile and effective running back Duke Johnson, who is unhappy in the Browns' crowded backfield that will welcome Kareem Hunt in midseason. Joe wrote several weeks ago that the Bucs have strong interest in Johnson, and now following last week's draft, they sure could use him.