Martín Gramática Has Questions About The Kicker Pick
April 30th, 2019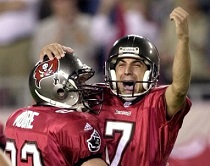 Former Bucs Pro Bowl kicker Martín Gramática is the lead analyst on the Buccaneers' Spanish language radio broadcasts.
He's also among the legions of Bucs fans questioning drafting kicker Matt Gay early in Round 5 on Saturday.
Make no mistake, Gramática loves his Bucs and has long been a devoted member of the Tampa community. And he has all the respect in the world for kickers and the rookie Gay.
But Gramática was left a bit unsettled by the drafting of Gay.
Specifically, Gramática would have preferred if the Bucs selected him later. That way, the organization would have less invested in Gay and, subsequently, the upcoming kicking competition between Gay and Cairo Santos would be more fair. Gramática talked about this on The Martín Gramática Show yesterday on WWBA-AM 820.
Kicking competition is critical, Gramática noted, and it's always best for all involved when it's a truly open contest. As an early fifth-round pick, Gay will have to lose the job; and that's not the ideal framework for a rookie, Gramática added.
Joe understands Gramática's point, but Joe also believes Bucco Bruce Arians is the kind of coach who won't stick with the lesser kicker for the sake of appearances. Arians isn't holding the kicking baggage of general manager Jason Licht and the Bucs' years of painful kicking personnel blunders. Ultimately, for Arians, Gay is just a fifth-round pick — a shot at a biscuit, if you will.
Overall, Gramática took the attitude of many ex-players when it comes to the NFL Draft. Little matters until any of these guys get on the field.