"One Of The Best Freak Of Nature's I've Ever Seen"
April 10th, 2019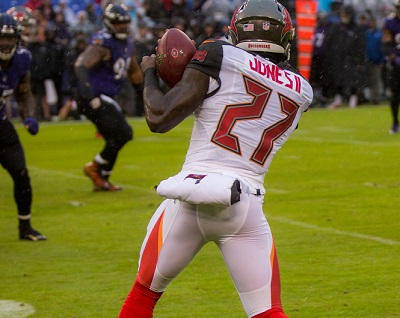 Oh, running back Ronald Jones is a freak of nature alright.
It's not easy to rush for 22 yards on 28 carries like Jones did last preseason. That's about as freakish as a running back averaging 2.9 yards per carry and then getting paid a fat contract to return the following year after a benching and a three game suspension — and then averaging 2.9 yards per carry again.
Welcome to Tampa!
Barring a bizarre meltdown. Jones, the No. 38 overall draft pick in 2018, will be back on the Buccaneers' roster this season. He's still 21 years old and maybe a fresh start will help him bounce back from a bad rookie year — at a position where rookies often excel.
America's Quarterback, Jameis Winston, said he sees the talent oozing from Jones and is hopeful it will show up in games.
"RoJo, he's still one of the best freak of nature's that I've every seen," Jameis said yesterday. "He's so explosive. I think him getting a year up under his belt, he's going to be ready to go."
Joe is putting no faith in Jones, but Joe also has a clean slate for the guy. He's so young and he wouldn't be the first rookie to crumble under NFL pressure. Joe has been told by reliable sources that Jones was a very immature rookie when it came to football, sort of the exact opposite of Chris Godwin in 2017.