"No. It's Not Speculative"
April 30th, 2019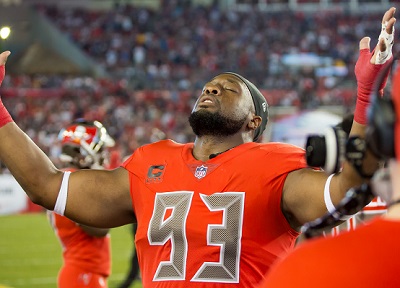 The Cleveland Browns beat writer who yesterday wrote that Browns GM John Dorsey wants to trade for Gerald McCoy put his foot down on the claim this afternoon.
Steve Doerschuk of the Canton Repository, the sister (brother?) newspaper of the Akron Beacon Journal, is not wavering from his report.
He joined WDAE-AM 620 this afternoon for an interview and was asked whether he was reaching a bit when it came to the McCoy report or whether it was grounded in a hard and credible source.
"No. It's not speculative," Doerschuk replied saying it's based on "conversations" and McCoy has been being "shopped for quite a while."
Interesting.
Joe said about 37 times on the Ira Kaufman Podcast over the last several months that the Bucs could hold McCoy all the way through training camp if they want to without freaking out regarding the salary cap. Injuries pop up all the time all across the league and in Tampa, as Bucs fans know too well.
Joe suspects if Jason Licht had zero interest in Gerald McCoy across the NFL, then he would have been released already.