"Whoever Invented The Game, Thank You."
May 1st, 2019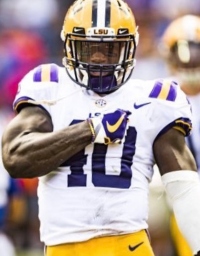 New Bucs rookie linebacker Devin White, the anointed savior of the horrendous Bucs defense, has an energy about him that hasn't been felt in Tampa for a while.
Joe likens it to the spirit of America's Quarterback, Jameis Winston, before all the losing, injuries and unrest of 2017, followed by Jameis getting labeled as a sex offender by Roger Goodell and his NFL team of detectives in charge of alleged justice.
White's energy is infectious. And while it's nearly unfair to ask or expect a rookie to carry and transform a defense, maybe White has the personality and talent to do it.
It's easy to fall in love with the interview, as the expression goes, in addition to off-the-field goodness, and forget that they mean a whole lot of nothing between the white lines. Lots of guys are great talkers and nice people. But for now, Joe's just going to go with it. White is a lot of fun, a true breath of fresh air.
According to KTBS-TV, White already was back home in Webster Parish, Louisiana, doing community service on Monday at a local school.
The fun video via the link above shows White talking after the draft and dropping this gem.
"I'm just happy I can be a part of the Bucs man, I'm a part of the Bucs. You see this smile? This is a Kool-Aid smile, a red Kool-Aid smile. Go Bucs," White said.
He went on to explain he doesn't play the game for fun, he plays it out of extreme love. "Whoever invented the game, thank you."
Joe will have a Kool-Aid smile if White is a sure tackler and can be a legitimate playmaker. Even if he's not blitzing like many think he will be, Joe would be just fine if White can be, say, a three-interception guy with a few forced fumbles and a mountain of tackles.