Looking At 10 Years Of Top Defensive Line Picks
April 14th, 2019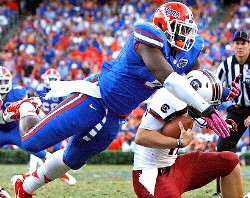 The Bucs are poised to draft a defensive lineman with the No. 5 overall pick in the NFL Draft.
So how have highly-drafted NFL defensive linemen fared in the draft over the past 10 years?
For a change, Joe is just going to type out the names and their draft positions and skip a bunch of commentary.
There are busts and there are potential Hall of Famers, and those in between.
Interesting to Joe is how Dontari Poe and Fletcher Cox, both defensive tackles, fell so far in that 2012 draft. They were the first D-line picks of that draft, and they'd go much, much higher if a mythical re-draft was held.
2009 —Tyson Jackson – (No. 3 overall)
2010 – Ndamukong Suh (No. 2 overall), Gerald McCoy (No. 3 overall)
2011 – Von Miller – (No. 2 overall), Marcell Darius, (No. 3 overall)
2012 – Dontari Poe (No. 11), Fletcher Cox (No. 12)
2013 – Dion Jordan (No. 3 overall), Ezekiel Ansah (No. 5 overall)
2014 – Jadaveon Clowney (No. 1 overall), Khalil Mack (No. 5 overall)
2015 – Dante Fowler (No. 3 overall), Leonard Williams (No. 6 overall)
2016 – Joey Bosa (No. 3 overall), DeForest Buckner (No. 7 overall)
2017 – Myles Garrett (No. 1 overall), Solomon Thomas (No. 3 overall)
2018 – Bradley Chubb (No. 5 overall)