Disaster Looming
April 9th, 2019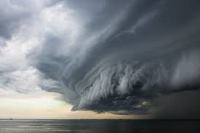 "Those who cannot remember the past are condemned to repeat it." — philosopher George Santayana.
And so the Bucs are slightly over two weeks away from another draft. A draft top-heavy with edge rushers if not defensive tackles. Would the Bucs be foolish enough to ignore the confluence of both need and opportunity to reach for a position that is nearly outdated in 2019?
One well-plugged in NFL scribe believes, yes, they may.
Typing yesterday in his "Monday Morning Quarterback" column, Albert Breer of theMMQB.com said he is hearing the Bucs very well may do what no team has done in the past 26 years. And that is drafting an inside linebacker with a top-five pick.
Word is, the Bucs love White, and they have a clear need with the loss of Kwon Alexander. Williams slipping here could make for an interesting decision, since Williams could free them to cut Gerald McCoy.
Let's see: With the exception of 30-year old Jason Pierre-Paul, whose contract is up after next season, the Bucs have no pass rush. Ever since Simeon Rice left, the Bucs haven't had a consistent pass rush.
And since Rice left, the Bucs defense more often than not has been horrid. You don't think there is a connection?
In a league that is pass-happy and passes more often than runs, in a division with potentially three Hall of Fame quarterbacks the Bucs face twice a year, the Bucs are going to burn a No. 5 pick not on a guy that can put pressure on a quarterback for perhaps the next decade but instead draft a guy to stop inside runs and short inside passes?
Has Joe been transported back to 1971 and just hasn't picked up a newspaper (remember those) yet?
This reminds Joe of two years ago. In a draft loaded with running backs the Bucs all but ignored that position, finally settling on a guy who can't read playbooks. How'd that turn out for the Bucs, which currently have a wretched running attack?
But the Bucs drafted a tight end, even though the team already had a tight end.
Why is this franchise so paranoid of pass rushers? Why does this team all but ignore the most important position on a defense (edge rusher)?