"I Would Be Shocked If That Offense Isn't, You Know, Top-5 In The NFL"
April 10th, 2019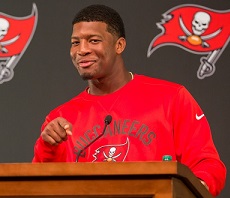 Jameis Winston is a blessed quarterback.
Never mind that he's thrown the second-most interceptions in the NFL since the start of the 2015 season and the 15th-most touchdowns.
Forget that America's Quarterback hasn't won a road game since November 2016.
He's blessed because of his new head coach, says former Bucs QB Chris Simms.
"What a gift he has been given by the football gods," Simms told a national audience on NBC Sports Network. "Yeah, last year of the contract, like you talked about, and now he's got a guy like Bruce Arians who is all-in at the quarterback position. All we ever hear about is how much quarterbacks love him and the confidence in which he kind of instills into the quarterback."
Simms went on to say the Arians offense will suit Jameis' style and that Arians' attitude and outlook adjustment will help the face of the franchise.
Yesterday, Jameis talked about how the Bucs' are typically a top-10 offense statistically, and Simms followed that up today and said, "I would be shocked if that offense isn't, you know, top-5 in the NFL."
Top-5, top-10, top-15, whatever, Joe wants to see an elite red zone offense, a decent running game, a non-embarrassing defense and the end of double-digit losses. That would be a great start.
Lotta Simms and ProFootballTalk.com wizard Mike Florio on the Bucs in this NBC Sports video below.