Desperate For Grit
April 10th, 2019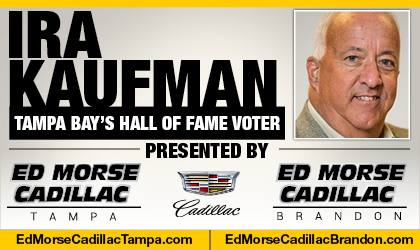 BY IRA KAUFMAN
Bruce Arians doesn't need to be reminded of Tampa Bay's road woes.
When Arians strolled along the Arizona sidelines, he watched in glee as his Cardinals crushed the Bucs early in successive years at University of Phoenix Stadium.
In 2016, Jameis Winston threw four interceptions and lost a fumble in a 40-7 setback at Arizona. Carson Palmer tossed three TD passes and, yes, Chandler Catanzaro added a field goal as the Cardinals assumed a 24-0 halftime advantage.
"Knock on wood, we are protecting the football," Arians said after that laugher. "And defensively, turnovers are coming in bunches."
When the Bucs returned to the desert in 2017, they fell behind 24-0 at the half once again before a late rally engineered by Ryan Fitzpatrick came up just short in a 38-33 loss. Adrian Peterson shredded Tampa Bay's run defense and Winston attempted only 10 passes before leaving with a shoulder injury.
Palmer completed his first 14 passes and Larry Fitzgerald caught 10 balls for 138 yards and a touchdown.
"It was a day for the old guys," Arians deadpanned after the game.
He could have been talking about himself.
Soft Travels
If the Bucs are serious about ending the longest playoff drought in the NFC, they have to start showing toughness on the road. They are 2-14 in the past two seasons away from Raymond James Stadium, dropping the final seven road games last year after that thrilling Week 1 shocker in the Superdome.
Road problems are nothing new for this franchise, which ranks last among all NFL teams since the 1970 merger with a mere.305 winning percentage away from home.
Winston is 8-20 on the road and riding a 12-game road losing streak weighed down by 31 interceptions. Buc fans won't soon forget that he was picked off four times last season at Cincinnati, prompting Dirk Koetter to bench him for three starts.
When the regular-season schedule is announced, probably next week, Arians can start planning for a road renaissance that is long overdue. Winston's erratic play on the road hasn't helped, but awful defense is the primary culprit. In the past two years, Buc opponents have averaged 32.5 points in their home stadiums.
That's a disgrace.
Since a 19-17 victory at KC that came in the midst of a 5-game winning streak in 2016, the Bucs have allowed at least 20 points in each of their last 19 road games.
That simply won't do for Arians or Todd Bowles.
Arians has proven himself to be a confident traveler. He took over an Arizona team that was 1-7 away from home in 2012. In the next five years, the Cardinals went 21-19 on the road, including a 7-1 mark in 2015.
That's the kind of true grit desperately needed by the Bucs, who have never won more than six road games in a season.
We'll Get There, Willie.
Character is revealed on the road, and the Bucs rarely answer the call. Far too often, they are not ready to compete from the start, falling way behind before making the final score fairly respectable.
Nobody is demanding a 7-1 road record this fall, but a 1-7 mark makes it impossible to post double-digit wins.
Is 4-4 too much to ask?
Arians keeps telling Buc fans that this roster is bursting with talent. The proof will come when Tampa Bay faces its traditional division foes on the road — along with trips to the Rams, Seahawks, Jaguars, Titans and Lions.
Koetter wanted a bad-ass football team, but it didn't materialize. Instead, the Bucs were routinely bullied on the road. There's been too many somber plane flights back to Tampa.
The Bucs have to earn the right to party on the returning team charter. If they do, Arians will be right there with them, leading the cheers while raising a glass or two.
"On the road again I just can't wait to get on the road again."
Ol' Willie gets it. Do these Bucs?