Gerald McCoy Watch
April 25th, 2019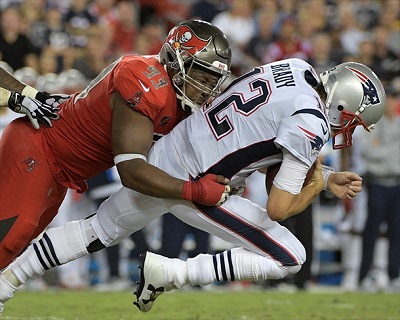 Of course it's doubtful that Gerald McCoy finds himself on the Bucs' opening day roster.
But it's certainly less of a long shot than it was before Round 1 of the NFL Draft.
The first round ended minutes ago and Tampa Bay didn't draft a defensive lineman. (What were they thinking?) And the Bucs didn't trade McCoy.
Without adding a D-lineman, it's awfully hard to make the case now that the defensive line will be better without McCoy. So is it more likely that he sticks around?
Yeah, McCoy is due $13 million and he's probably not worth it for a team in a salary cap crunch. But the Bucs could find cap room by restructuring other players' contracts, and there's still dead weight on the roster that could be cleared. (Joe defines dead weight as players with no trade value.)
Keep in mind Jason Licht is the same general manager who way overpaid Vincent Jackson for his final season, and he's the GM who had no problem giving Doug Martin cash he didn't deserve. Heck, Brent Grimes got a pile of money last year and he didn't want to play his position.
Joe wouldn't bet a nickel McCoy is here next week, but it's hardly 100-percent certain he's done in Tampa.