Devin White Says He's Hungry To Talk To Derrick Brooks
April 26th, 2019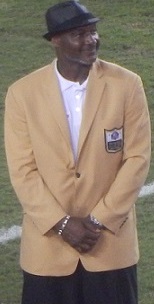 Joe was stunned to learn that well over a year after Bucs cornerback Vernon Hargreaves was drafted he hadn't spent significant time with Tampa Bay icon Ronde Barber.
It seemed unthinkable. Barber was one of the great corners of all-time and a guy who attended practices and worked for the Bucs on their preseason broadcasts.
Throw in the fact that Barber is a good friend of general manager Jason Licht, and red flags were flying everywhere.
Fast forward to last night's draft, and already newcomer LSU linebacker Devin White, the No. 5 overall pick by Tampa Bay, knows who he wants to talk to in a hurry: the greatest linebacker in Buccaneers history, Mr. Derrick Brooks.
Christopher Dabe of Nola.com, who was at the draft last night, interviewed White and learned of his connection with Brooks via a mutual trainer and their missed connection prior to the draft, one White wants to complete.
But with White joining the team for which Brooks had his No. 55 retired, the player who wore No. 40 for LSU is eager for his first chance to speak with legendary linebacker "so I can pick his brain and get advice from him about how he became such a great pro."

"At the end of the day, I want to help my team," White said. "With him being a great Buc, I know he wants to help us win."
Somewhat ironically, in recent years Brooks has been a guy Kwon Alexander has talked to about football and life. And Joe would wager quite a bit that Brooks highly recommended Kwon to his good friend John Lynch, the 49ers general manager and Buccaneers icon who dropped a fat new contract on the former Bucs middle linebacker.
Good for White. Joe hopes that Brooks-White connection happens within the next month. Joe can't think of a good reason why it shouldn't happen.