"Designated Badass"
April 26th, 2019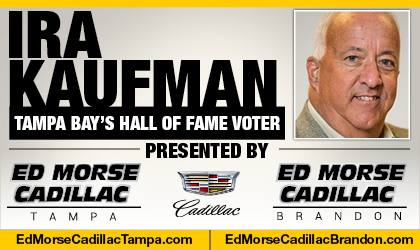 BY IRA KAUFMAN
You start with the blazing 4.4 speed. Then you mix in the 28.5 tackles for loss, the 8.5 sacks, the 4 forced fumbles and the 3 interceptions.
Yes, Devin White has all the metrics a linebacker would want heading into an NFL draft. But the Bucs didn't select White No. 5 overall simply because of his metrics.
They chose him because Todd Bowles wants a marauding defense and White has the look of a designated badass. A defense that had no face suddenly has a chance to scare some people, led by a former running back who made no bones about who was running the show in Baton Rouge.
Tampa Bay continued its linebacker pipeline to LSU Thursday night and Buc fans expect White to make an instant impact in the middle of this overhauled defense.
That doesn't mean everyone was on board with this pick, particularly with Josh Allen and Ed Oliver still on the board. When Roger Goodell made the call at 8:56 p.m., a crowd of more than 400 Buc fans at Buffalo Wild Wings in south Tampa reacted with a mixture of cheers and groans.
"An inside linebacker, really?" asked one Buc supporter "With those defensive linemen still available?"

"White's a stud," said another. "He's going to be great from Day 1. "

I understand both sentiments. What you have to understand is the Bucs were looking for a skilled defensive prospect who heartily embraced a leadership role, especially given the departure of Kwon Alexander.

Those folks are hard to find.
"He'll be a linebacker like they've never had in Tampa," Booger McFarland said on ESPN. "A guy that can run and hit at 240 pounds. When opportunity and need present themselves, Devin White was standing right there. This is the perfect pick for Tampa."
New Face, New Voice
It's not easy for a rookie to walk into a locker room filled with grown-ass men and command respect, but White is up for the challenge.
"I'm all about brotherhood, and I know that's what it takes to win games," he says. "If everybody's on the same page we can reach our goals, so I think I can bring that leadership of just having everybody on the same page."
Buc defenders haven't even been reading from the same playbook the past two seasons. Breakdowns were everywhere. Leaders? Nowhere to be found.
Bowles is expected to demand accountability and White knows a lot of eyes will be on him this fall. His response: bring it on.
"You can't be a guy that shies away from leadership," he says. "You cant be a guy that doesn't study and knows what he is doing on the field. You're the quarterback of that defense, You have to be a playmaker and an absolute stud. I am not shy. I have to be able to go into the league, win guys over and start leading those guys."
Buc fans know all too well that leadership can be a fleeting thing.
Jameis Winston was declared the face of the franchise before he even threw his first pro pass, which turned out to be a pick-6. Winston was suspended, then benched, last season, so that face is now dotted with plenty of worry lines.
Veterans like Lavonte David and Jason Pierre-Paul will welcome White to One Buc Place with open shoulder pads, but leadership roles have to be earned.
White has all the physical attributes needed to be as disruptive as Deion Jones, Atlanta's stud middle linebacker who preceded White at LSU. But if White appears unprepared this fall and Allen posts 10 sacks for the Jaguars, Buc fans will be livid.
Facing Drew Brees, Matt Ryan and Cam Newton twice a year, the learning curve for White will be steep. He's not studying Nick Tiano of UT-Chattanooga anymore.
If the Bucs got it right Thursday evening, they've found their defensive ringleader, a guy who can set the tone for a unit that has been tone-deaf for far too long.
Remember the "Average White Band," a funky Scottish group from the '70s that is still touring?
Brace yourself, Buc fans, for the "Well-Above Average White Band," led by the confident new kid in town.
Ira Kaufman began covering the NFL as a New York Giants beat writer in 1979. He arrived on the Buccaneers beat in 1985, and the corporate leash finally was removed from his neck when he joined JoeBucsFan.com in July 2016. The award-winning Ira Kaufman Podcast fires twice per week, and Ira's columns appear thrice weekly, except when Ira is on special assignment. Tampa Bay's only Hall of Fame voter also is a popular guest on various national radio and on local TV.