Can Devin White Raise Up Lavonte David?
April 26th, 2019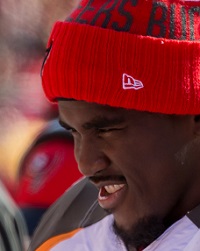 Inside linebacker Devin White is here to not only lead the Buccaneers defense but, frankly, he's here to save it.
The Bucs drafted him because they believe he's a generational talent capable of driving the stalled bus out of the Mike Smith ravine on the side of Dale Mabry Highway.
It's a big task for a 21-year-old to bear.
Well, general manager Jason Licht made it clear last night that White will have help. It will come in the form of Lavonte David.
"I couldn't think of a better person to be his big brother here," Licht said of David. "I don't think Devin needs to learn how to be a true pro, but he needs to learn how to maneuver through the NFL, the training camp, the toll that it puts on your body, things like that, and I think Lavonte is the perfect guy."
David has grinded through 105 games and has only missed five games in seven years. Joe is very confident David can guide White through the physical aspects of the game and will serve as a good role model.
On the flip side, Joe hopes White can inspire David. Yeah, Joe said it.
The new blood on this defense must find a way to stomp the stink of losing from the guys who have endured too much of it and might be so mentally beaten down they can't recover.
Joe's not singling out David. He's not alone among those who could be in that boat. Losing is contagious and for some players it can become chronic.
Kwon Alexander was an inspirational figure in the Devin White mold, but he really didn't make those around him better. Hopefully, the Bucs have found that with the No. 5 overall pick last night.