Bucs Encouraged Early By Noah Spence
April 27th, 2019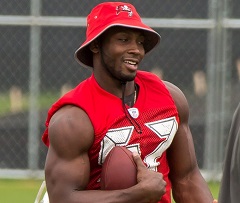 One eye-opening nugget coming out of Jason Licht's wrap-up news conference late last night was a statement that Noah Spence is turning heads at One Buc Palace for his work over the past 3 1/2 weeks.
That's right. You're not hungover.
Spence, 25, has been invisible the past two seasons. First he was injured. Then he was just benched, officially slapped with the "B-word" after being the No. 39 overall pick in the 2016 NFL Draft.
About two weeks ago, Licht said Spence was better suited for a 3-4 defense and the Bucs knew that when they drafted him, even thought that was their defense under Dirk Koetter. Joe thought it was an unsettling take by Licht.
Last night when asked about not addressing defensive line through the first three rounds of the 2019 draft, Licht talked about how much the Bucs staff loves Jason Pierre-Paul and Carl Nassib.
And then came a Shaq Barrett mention and the Spence commentary.
"Noah has been really a pleasant surprise so far for the new staff and for us, of what he's been showing," Licht said.
Also, Licht added, "We're happy with Vita [Vea]." Gerald McCoy? Nah.
Spence is in a contract year and perhaps he's gotten his off-the-field life in perfect order. (Joe's just going to leave that there.) Not every professional matures at the same pace. The NFL has had many pass rushers who flourish after a few seasons, but rarely are those guys high draft picks like Spence.
If Spence can contribute — and it's a big "if" — that would be a such a welcome bonus for the Bucs. The Bucs remain thin at linebacker.