Unsettling Noah Spence Talk
April 18th, 2019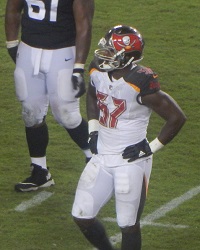 After general manager Jason Licht talked this week about defensive end Noah Spence, the No. 39 overall pick in the 2016 NFL Draft, Joe did a lot of head-shaking and sighing.
The comments were hard to stomach.
Licht was asked about Spence and how he was to fit in the Bucs' scheme coming out of college.
Spence was viewed as a designated pass rusher, a "DPR," Licht explained, essentially a guy joining a new Bucs 4-3 defense that allegedly was to be flexible with former defensive coordinator Mike Smith showing his share of 3-4 looks, which rarely materialized.
"I just happened to think, we knew at the time, that he was probably better suited for a 3-4, but we still saw the value where we took him as an edge rusher, sub-rotational DPR," Licht said of Spence. "So, I don't think it really delayed his development. I just happen to think in his case that playing in a 3-4 is probably what he is more ideally suited for."
Huh?
Yes, Joe understands what Licht said, but it sure feels misguided. You draft a guy at No. 39 overall who was best suited for X but you thought he had enough value that he could contribute for Y? That's not exactly a recipe for getting the most out of a player.
A minute earlier at his news conference, Licht said of two cornerbacks drafted with premium picks, Vernon Hargreaves (2016) and Carlton Davis (2018), that they are a better fit in press coverage in Bruce Arians' blitz-blitz-blitz defense versus Mike Smith's big-cushion, off-coverage defense.
"Those guys are better suited for [Arians' defense]," Licht said.
Again, Joe gets it, but why was all that draft capital used on players whose talent (and confidence?) couldn't flourish completely within the current scheme?
Don't get Joe started on whether Justin Evans (2017) was the right safety choice for Mike Smith. And the fact the Bucs drafted defensive backs Ryan Smith (2016) and M.J. Stewart (2018) and changed their positions so quickly gives Joe a headache.
Joe's hoping a majority of the blame is on Mike Smith and his influence and ineptitude. The alternatives are unthinkable.