Bizarre & Uncomfortable Jason Licht Talk
April 27th, 2019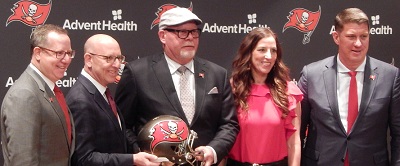 Joe absolutely was stunned last night — and it wasn't just by the Bucs' decisions in Rounds 2 and 3 of the 2019 NFL Draft.
Something Jason Licht said in a relaxed moment was downright disturbing.
First, Joe will take you back to the hiring of Bucco Bruce Arians. Licht made it clear at the time that he knew how well he and Arians worked together in Arizona. And Licht said he understood how Arians approached building a football team. Essentially, Licht told everyone — and so did Arians — that they were on the same page when it came to football, which is why Licht recommended Arians to Team Glazer.
Ok. It sounded good. Made sense. Team Glazer echoed that last month in public.
Fast-forward to early this week, Bucco Bruce Arians beat his chest before media, even cutting off questioning from JoeBucsFan.com columnist Ira Kaufman, and declared with conviction that a team can't draft for need — "you draft for need; you get fired."
Well, last night, Licht somewhat contradicted himself and Arians.
First, Licht praised Arians for knowing quickly upon his hire that the Bucs needed to address defense in the draft, but Licht said he was worried Arians wouldn't think that way.
"You know being an offensive guy that he is usually, I was a little afraid that he would say, 'Screw it. Let's go all offense.' But he really understands the concept of building a team. He's been around a long time," Licht said.
Why would Licht even think such a thing when he obviously sold Team Glazer in advance that he and Arians were cut from the same team-building cloth?
Also, why would Licht acknowledge that the Bucs were drafting with need at the forefront when Arians just said this week that when you do that you get fired?
And yeah, it's obvious the Bucs were playing a "need" game last night.
Joe is so glad the official/unofficial season of BS coming from the mouths of team officials around the NFL is just about over.
However, it really feels like the BS in the Bucs camp runs a lot deeper than just draft smokescreens and mis-directions.