Bucs Add Another Elite-Speed Receiver, Scott Miller In Round 6
April 27th, 2019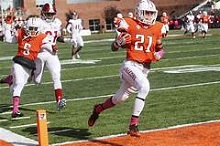 No Senior Bowl invite.
No trip to the NFL Scouting Combine or the East-West Shrine game for the newest Buccaneer.
Wide receiver Scott Miller out of Bowling Green might have been ignored by a ton of football people, but not by the Bucs who made him their late-sixth-round pick today.
He clocked in the 4.3-speed neighborhood at his Pro Day, per this Toledo Blade report, and the Bucs took their shot.
It seems Miller turned a lot of heads opening last season at Oregon with 13 catches, 166 receiving yards, and two touchdowns. The Bowling Green website lists him at 5-11, 166 pounds. Joe sure hopes Miller can return kicks.
With that speed, he should at least be a fun guy to watch in training camp.