Speed Numbers But Speed Questions
April 27th, 2019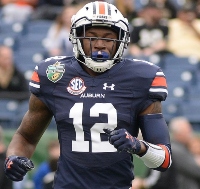 There's track speed and there's football speed.
Bucco Bruce Arians has talked about this many times. Arians is no fan of 40-yard-dash times; he likes to see how speed looks on film and on the field.
And that brings Joe to the Buccaneers' new rookie speedster, third-round rookie cornerback Jamel Dean. He's long and physical and crazy fast without pads. But what about with pads?
Dean ran a 4.30 at the NFL Scouting Combine and showed his explosion in other metrics, but NFL Network scouting guru Daniel Jeremiah, the former scout with lots of connections around the league, said Dean is a major wild card plays slower than he appears.
Teams all over the league were split on him. When you watch him on tape, you don't see the speed he showed at the combine. He's also had some knee issues that concerned teams.
Joe's heard the old adage that speed can't be taught, but it absolutely can be. Every player has a speed ceiling, but some guys literally can learn how to run faster in games and be taught how to tap their explosiveness. Just ask any player who has worked with a physical trainer/track coach.
It's possible Dean already has had that kind of training and just slows down a hair in games, but Joe's going to hold out hope that the Bucs can get him to play faster.
Now is he a good enough cover guy to win a job in a crowded Bucs stable of young corners, that's a whole different question.