Blame The Rays
April 18th, 2019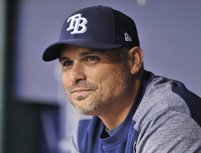 A lot of Bucs fans are irked because it seems there is a hole in the Bucs' 2019 schedule; five games in the middle of the season will be away from the Den of Depression.
There is a method to the NFL schedule madness and one NFL executive feels Bucs fans' pain.
Last night on SiriusXM NFL Radio, NFL director of broadcasting Mike North (no, not that Mike North) appeared on "Late Hits" with co-hosts Gil Brandt and Friend of Joe host Alex Marvez. There, North discussed the NFL schedule release.
North noted the Bucs, after they host the Giants on Sept. 23, won't return to the Den of Depression until Nov. 10, and they may have gotten the short end of the stick on the schedule.
"If we had a do-over, if we had a re-do, I would love to take another shot at that Tampa Bay schedule," North said. "They volunteered, really, to go to London this year. They are on the road the first couple of weeks before they go to London. And it just happens to fall in that they got a couple of road trips after [the bye].

"You know, that is six consecutive weeks without a home game at their stadium and I'm not sure that's really fair to their fans. I am hopeful that we didn't do something to the Buccaneers that they feel like we did something unfair. I know we are not supposed to root for anybody but I am kind of rooting for the Buccaneers throughout October."
Yes, the Bucs essentially volunteered to play in London because they are hosting the Super Bowl in February 2021. Whenever a team hosts a Super Bowl, it must give up one home game and play an international game instead, per the NFL.
There is also something else at play. North explained the NFL tried not to schedule home games in markets where there may be a conflict with baseball playoff games. North said the NFL studied MLB teams to determine what clubs sharing TV markets with an NFL team might advance to October postseason games.
The Rays, who narrowly missed the playoffs last year, are on fire so far this season with the best record in baseball at 14-4.
No, the Bucs and Rays do not share the same crib, but they do share TV eyeballs. The NFL likes to maximize TV eyeballs and rear ends in seats. A team in the same city with a good baseball team in the playoffs would siphon away viewers, customers and, yes, interest.
North noted Philadelphia was a team also affected by this goal, as the Eagles will play three straight road games in October. The Phillies are expected to have a good team and, like the Rays, do not share a stadium with the local NFL team.