A Six-Game Story For Bucs
April 17th, 2019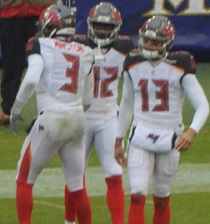 This new Bucs schedule sure is an interesting one.
In many ways, so much will be all about those first six games.
Week 7 is a bye and Joe sure hopes that doesn't signal a common Tampa Bay tradition during a late-October bye week: draft talk and fans checking out.
Here's that Big Six:
Week 1 – SAN FRANCISCO, Sunday, Sept. 8, 4:25 p.m.
Week 2 – at Carolina, Thursday, Sept. 12, 8:20 p.m.
Week 3 – GIANTS, Sunday, Sept. 22, 4:05 p.m.
Week 4 – at Los Angeles, Sunday, Sept. 29, 4:05 p.m.
Week 5 – at New Orleans, Sunday, Oct. 6, 1 p.m.
Week 6 – CAROLINA, Sunday, Oct. 13, 9:30 a.m. (In England)
Simply put, it sure seems like the Bucs absolutely must find a way to get to 2-1 before heading to the Rams, followed by a cross-country, back-to-back road game in New Orleans. Ouch!
The thought of a must-win game with, say, the Bucs at 2-3 going to England might be too much for Joe's weak stomach to bear.
The Bucs just can't be 2-4 at the bye. It just can't happen. This team has to stand up and absolutely refuse to let that happen.
No, 2-4 at the bye isn't a death sentence, but it will feel like one for a fan base that has endured far too much.