"That's Just What We Need As A Team And As A Unit"
March 19th, 2019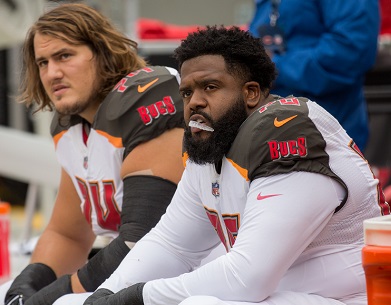 It sounds like Donovan Smith wants or needs a proverbial kick in the ass.
J.R. Sweezy is the nasty tough guy we need, Smith and other Bucs linemen said in past years. Last year it was Ryan Jensen who was supposed to fill the this-guy's-fire-will-rub-off-on-us role.
Man, Joe would love to wire guys like Smith and Ali Marpet to a lie detector and ask them why they can't motivate themselves to be the mean-streak linemen they aspire to be? Why do do they think they need a teammate to get them there?
Of course, Bucco Bruce Arians already has addressed how he'll handle loafing on the Bucs. So that was comforting and encouraging. And it appears Smith thinks Arians' no-BS attitude will deliver what Sweezy, Jensen and Dirk Koetter-era coaches could not.
"With [Arians] coming in, he has a lot of fire and that's just what we need as a team and as a unit, to get things going," Smith told SiriusXM NFL Radio recently.
That sounds nice, but why does Smith think the Bucs offensive line needs a lot of fire from a coach? They've got three young guys — Smith, Marpet and Jensen — making mega-millions. And they have fiery and intense quarterback in Jameis Winston?
For Joe, the whole Bucs mentality is off. And hopefully Arians can fix that in one season.