Team Glazer Talks Jameis: "We Just Know That He Needs To Be Consistent"
March 31st, 2019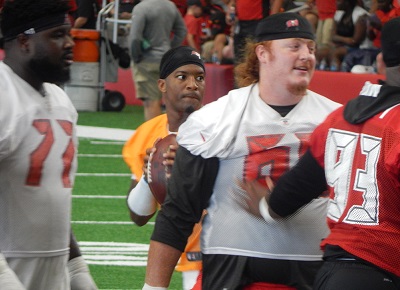 Good luck finding a quarterback, other than Jameis Winston and David Carr, who started from Day 1 of his career and got a fifth season with the same team without making the playoffs.
Jameis is a true NFL rarity.
Joe's not blaming America's Quarterback for the incessant Tampa Bay losing, but one cannot argue that QBs stick around if they lose a lot. They just don't.
When Joe sat down with Team Glazer last week in Arizona, Joe asked about Jameis' suspension and basically the state of Jameis when it comes to ownership. Before last week, Team Glazer hadn't fielded questions on the record about post-suspension Jameis.
JoeBucsFan.com: Fans read the ruling, the NFL statement. They know what happened with the suspension. Some of them were turned off. Some of them had trouble rooting for Jameis. What do you want to say to those fans who have those feelings about Jameis?

Buccaneers co-chairman Joel Glazer: That whole situation, we're looking forward. You know, certain things in the past, we just think it's not productive at this point to look in the past. Look forward. We're looking forward to this season. We know he's going to work hard, and look forward to see him produce on the field this year.

Joe: What excites you most about Jameis? Knowing him now, fifth year as a Buccaneer, he is sort of by default the face of the franchise. What do you like about where he's at?

Team Glazer: With Jameis, if you look at last year or even the previous year, two years ago where he had the injury for half the year, he came back the second half of the year and played very well. Last year, again, beginning of the year, then the second half of the year played well. So, you know, we've seen what he can do. We just know that he needs to be consistent. I know that he knows he needs the consistency. But I know this much, nobody's going to work harder. He'll always be the first one there and the last one to leave. And nobody wants to win more than Jameis Winston.
Ahhh, consistency. It's eluded Jameis for much of his Tampa tenure.
Based on Team Glazer's words, it sure sounds like if Jameis is going to earn a sixth year in Tampa that includes his second Bucs contract, he'll need to finally find a level of consistency that makes everyone confident Jameis is better than most NFL starters.
As Glazer said accurately about the greatness in Jameis' game, "we've seen what he can do." Now it just has to show up more often.
Regarding fan feelings after Jameis' suspension, Joe didn't expect Team Glazer to talk about that. But the question had to be asked. There's enough lingering negativity out there about Jameis the person. Joe hears it often while out in the community.