"Bigger' Linebackers On The Outside, Says Bruce Arians
March 31st, 2019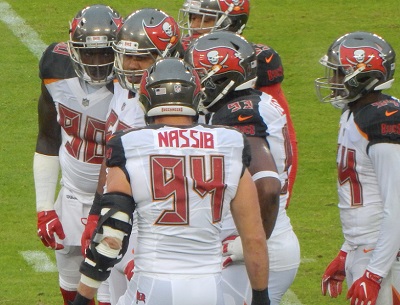 Yes, Bucco Bruce Arians was asked to give a state of the linebackers address during a 1-on-1 interview recently.
The head coach said a few noteworthy things.
First, he called Lavonte David one of "the best in the business" during a chat last week with Alex Marvez of SiriusXM NFL Radio. No surprise there. And Arians seemed to again say David would be an inside linebacker, which was a take he shared when introduced to Tampa Bay media in January.
No, Arians didn't directly tell Marvez that David would play inside, but after talking about David and new LB Deone Bucannon, Arians said the Bucs would play bigger linebackers outside.
Carl Nassib? Kevin Minter? But he's only 6-feet, about 245 pounds. David goes about 6-1, 240.
Noah Spence? Can he be resurrected as an outside linebacker.
Of course, nearly everyone is bigger than Bucannon, who plays at 6-1, 210 or so. This month he signed a one-year deal for $2.5 million. Ironically, departed LB Adarius Taylor only got a little less money from the Browns.
Kendell Beckwith? Answers should be coming from One Buc Palace as players return TOMORROW for physicals and the start of offseason meetings and conditioning.