Chucky Adds Antonio Brown
March 10th, 2019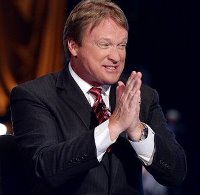 Of course, Joe remains curious and somewhat fascinated by how the Bucs' Super Bowl winning head coach is building his Raiders team.
Another big move by Chucky was struck last night as NFL Network reports all-World quitter receiver Antonio Brown will go to the Raiders in exchange for third- and fifth-round picks. Not a bad addition to an offense that saw quarterback Derek Carr throw for more than 4,000 yards last season,the first time in his career.
Brown will be complemented by wide receiver Jordy Nelson and a Pro Bowl tight end in Jared Cook. Man, Chucky sure loves players over 30. What next, Marshawn Lynch and Doug Martin coming back to run the football?
Chucky has made eye-popping, blockbuster trades since taking over last year. And now he's decided to pay a nearly 31-year-old receiver insane money rather than paying a young, All-Pro pass rusher, Khalil Mack.
Still, Chucky found a way to be sitting with a three first-round picks this year and a mountain of salary cap room. Now he just has to make good personnel decisions, which was his downfall in Tampa.