"I Gotta Evaluate Him;" Bruce Arians Won't Commit To Gerald McCoy
March 26th, 2019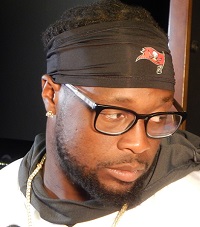 After breakfast with Bruce Arians today, Joe wouldn't bet a dollar that Gerald McCoy plays for the Buccaneers this season.
Arians is known for not spewing a pile of BS, so it's quite noteworthy that on March 26, he doesn't know if McCoy is good enough to play on his football team at his $13 million salary for 2019.
Arians made that very clear.
"Financial is a big part of it. I gotta evaluate him," Arians said. "I mean, guys his age, it's different. Usually they age when they get paid the most and production don't match. So we got to find that out. It's very hard [to determine] because we can't get in pads. You know, but you still [can] see it in [OTAs]. You know, you still see his enthusiasm for the game. If he still has all that, I'm fine."

Arians went on to say the film on McCoy shows "he's not as disruptive as he was four years ago but he's still a good player."
Joe continues to smell a draft day trade and the Bucs drafting a defensive tackle at No. 5 overall. Joe wrote last week that the Bucs were leaning that way and this is simply more evidence.