Bruce Arians Talks About His Significantly Heavier Hand In Personnel & More
March 26th, 2019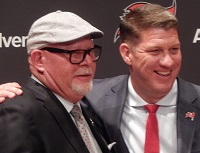 The question had to be asked of Bruce Arians when it comes to how he'll allocate his time considering he's made a big effort to tell seemingly everyone that he won't be doing a lot of what he used to do when he coached the Arizona Cardinals.
Joe laid it on Arians this morning at the swanky Arizona Biltmore resort.
JoeBucsFan.com: Coach, no disrespect from this question. You've said that you didn't want to coach coaches this time around and that weren't calling plays and you were going to try to stay out of Byron Leftwich's way if you could, and you have full trust in Todd Bowles, and you're healthy. So with all this sort of extra time that you're going to have, where is that going to go? Toward personnel?

Bucco Bruce Arians: A lot more personnel with Jason. And also looking at game management situations that maybe I screwed up those five years [in Arizona.] Can't say there were many, but there were situations because I get very angry at officials sometimes and lose sight of some things. That's why I hired [retired official] Larry Rose, just to let me know if I'm right when I'm hollering at them or not. But yeah, that part of it, continuing to go more room to room, you know, and just see things how they're going. Do more individual teaching than just sitting in the quarterback room or putting the installation in. I'll be in there but I want to take a backseat to watching another great young coach grow, also [to see] who's taking notes, who's not taking notes [among players].
Great answer by Arians, and it just reinforces how much of a heavy hand he'll have in every aspect of the team. This is Arians' ship, and Joe's quite sure everyone knows.