Bucs Hunting Isaiah Crowell?
March 14th, 2019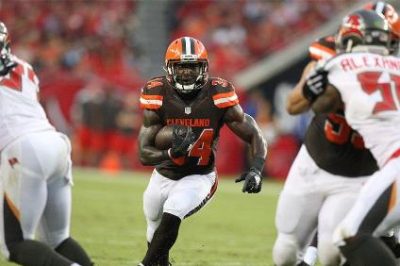 Joe wrote over the weekend that Bucs officials are yearning for a third-down back and they do not think Ronald Jones is in that mold.
That's why the Bucs have been sniffing Duke Johnson of the Browns.
So where will the Bucs find their guy to complement Peyton Barber and be a third-down type of guy? It might be the draft, but it also could be new free agent RB Isaiah Crowell, notes NFL writer Benjamin Allbright.
Crowell is kind of in the Barber mold, maybe a bit quicker. He's also been more productive through his career and he's versatile. Crowell began his career with the Browns and played for the Jets last season, where he averaged 4.8 yards per carry. Through his 880-carry career, Crowell has averaged 4.3 yards per carry on some bad football teams with sketchy offenses.
Joe's always happy to ugrade, and Crowell would represent just that when compared to departed Jacquizz Rodgers and Jones. Still, Joe thinks the Bucs could do better than Crowell.