You Can't Make This Stuff Up
March 14th, 2019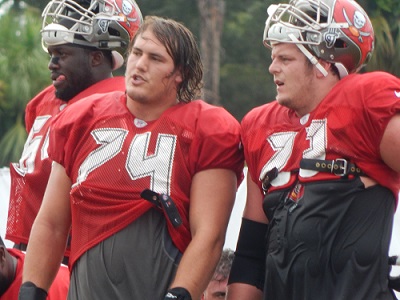 Here's a little guard history with a new twist, courtesy of your Tampa Bay Buccaneers.
Joe will get the party started in 2014, when somebody at One Buc Palace decided to attack the offseason by banking on guards Oneil Cousins, a Browns import, Jamon Meredith and MRSA-wounded Carl Nicks. That blew up in a hurry and the Bucs made an 11th-hour trade for Logan Mankins, who needed a full year to get over the shock of being dealt to Tampa from the Belicheats.
The Bucs' offensive line was a hot mess that season en route to winning the Chase For Jameis with a 2-14 record.
After a great 2015 season at the position, Mankins retired and the Bucs made guard J.R. Sweezy their biggest-money free agent signing in 2016. A never-detailed back injury cost Sweezy the entire season, while Dirk Koetter played Kevin Pamphile at left guard as Ali Marpet settled in to his injury-shortened sophomore season at right guard.
That was a little messy as the Bucs' running game crumbled and 2017 arrived with the revelation that Marpet was a center (he wasn't), Sweezy could somehow be the first guard to ever return from back surgery and play a full season (he didn't) and Pamphile was better off splitting reps with Evan Smith (he wasn't).
Enter 2018, and tackle Caleb Benenoch starts every game at right guard and was awful while Sweezy become a Pro Bowl alternate in Seattle for the NFL's best running game. Bucs rookie Alex Cappa and Smith rotated in to give Benenoch breaks but they still couldn't win the job. Ali Marpet moved back to left guard. He was good but not great, and now the Bucs are staring at another hole at guard and depth concerns.
Joe laid this out now because Sweezy just signed an inexpensive free agent deal in Arizona, and four-time Pro Bowl guard Mike Iupati, a guy who played multiple seasons for Bucco Bruce Arians, replaced Sweezy in Seattle with a new contract today.
You simply cannot make this stuff up.
Joe will wager a few bucks now (just a few) that next year Ali Marpet will be playing center as Ryan Jensen moves on and the Bucs will be in the free agent guard market in a big way.