Waiting On Mike Iupati
March 14th, 2019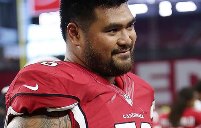 Anyone remember wide receiver Mike Quick? When Joe was a kid, he was a true NFL superstar, five consecutive Pro Bowls while playing for five Eagles teams with losing records. That's how good Quick was.
Nowadays, Quick is breaking down film for the Eagles' official website.
One of his latest editions is below, in which he looks at free agent offensive linemen. Donovan Smith made the grade in this breakdown, as Quick spotlight's Smith's strong hands and ability to lock down a defensive end.
But of note to nervous Bucs fans is Quick sharing his love of free agent guard Mike Iupati, the former Pro Bowler who played the seasons for Bruce Arians in Arizona. "Boy, he can eat up defenders," Quick notes via video.
The 6-5, 330-pound Samoan turns 32 in May and is coming off a season in which he missed six games with back and knee issues.
Can he still play? Is he healthy? If there weren't question marks with Iupati, Joe suspects he'd be off the market already. He's that good when healthy.
The Bucs could use a quick-fix at guard, in addition to depth upgrades. It seems the Bucs are committed to rolling with Evan Smith as their backup center/guard. Yeah, he's still on the roster. And Joe suspects the Bucs won't give up on Alex Cappa, and there's no reason to.
Joe would be very pleased to see the Bucs sign Iupati, if they're convinced he'll be healthy, and draft a guard/center or tackle, perhaps trading up into the second-round to get one. Yes, Joe wrote "guard/center" because the odds of Ryan Jensen returning next season at his $10 million salary and no guaranteed money are rather slim.