Would A Giant Tyrann Mathieu Contract Affect The Bucs' Decisions At Cornerback?
February 24th, 2019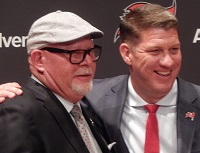 For those dozing on the rest of the NFL, Panthers safety Eric Reid signed a one-year, prove-it deal before last season and just renewed with a three-year contract worth more than $7 million per season.
Bucco Bruce Arians' favorite safety, Tyrann Mathieu, will get at least that much in two short weeks.
And it sure seems like Mathieu and the Bucs are destined for each other based on the Honey Badger's own recent Twittering.
Don't think Mathieu will command that kind of money? Consider he is 26 years old, about six months younger than Reid, and he hasn't missed a game in two seasons while Reid has missed six. Mathieu also earned $7 million last season and played well for the Texans.
It might cost the Bucs $8 million per year and two full years of guaranteed cash to get their man. The Bucs haven't paid that much for a safety since they opened the Team Glazer vault for Dashon Goldson at that price in 2013. (Another only-the-Bucs moment, signing head-hunting Goldson as the league moved to stop head-hunting. Brilliant!!)
So if the Bucs sign Mathieu when the free agency dinner bell rings in 17 short days, would that make them more likely to draft a cornerback with a premium pick in April?
Joe figures if the Bucs are going big money at safety, then they'll want to keep costs down at corner, especially with the apparent return of Gerald McCoy ($13 million salary) and Jason Pierre Paul ($14.7 million). Yeah, they still need a veteran corner but there's no way Joe can see them paying a ton in free agency with Mathieu on the pirate ship. Also looming is the Vernon Hargreaves question. If he plays well this season, then the Bucs would have to decide whether to pick up his fifth-year option for 2020, which would be around $9 million.
One way to keep costs down at corner — and optimism high — is to draft another one. Joe wouldn't do it, but the thinking at One Buc Palace might be very different.
Regardless of what Bucs fans think, Arians is not married to 2018 rookie corners Carlton Davis or M.J. Stewart, both second-round picks. He didn't draft them and, heck, he might even want to trade one for picks. Many Bucs fans think Davis is so valuable. Joe would ask those folks what they think Davis and Stewart could command in a trade?
Arians might be asking the same question this week at the NFL Scouting Combine where trades are a major topic among teams.