Stop Thinking Players Don't Believe What They Say
February 15th, 2019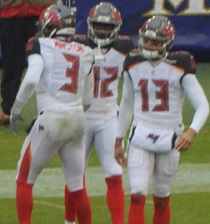 Joe is metaphorically throwing a dagger here at TampaBay.com Bucs writer Thomas Bassinger, but the message also goes to far too many fans and media.
Simply stated: let's start believing what NFL players say instead of acting like their direct communication is something it's not. At least give them the benefit of the doubt.
Bassinger penned a piece today explaining that Bucs fans are the most Republican in the nation. The story is based on what appears to be a legitimate survey, albeit with a very small sample size.
But Bassinger wrote that one example of the Bucs' Republican-leaning fan base was Mike Evans quickly ending his anthem protest after he rolled it out before a game following the 2016 presidential election.
…  Two days later, he apologized and said he would go back to standing.

Why was Evans' protest so short-lived?

The quickest explanation is that those who took offense, including a Republican state senator, were loud and insistent in their calls for the Bucs to discipline, trade or release Evans, whose silent demonstration coincided with the NFL's "Salute to Service" military appreciation and merchandise marketing campaign.
That's "the quickest explanation?" How bout the quickest explanation for Evans' short-lived protest is the reason he actually gave in his apology: he didn't like offending military members (many are registered Democrats) while delivering an anti-Trump message that was very personal to him.
Isn't easier to take Evans on face value rather than to think he was influenced by a cranky old state senator (who later resigned after a sex scandal) and various social media haters? Apparently not.
This brings Joe to America's Quarterback, Jameis Winston, and yesterday's story of him saying that while benched midseason last year, he advised himself to disregard some coaching and do more of his own thing. Endless fans bombed Joe on Twitter claiming Jameis didn't really mean what he said or even say what he actually said.
Joe doesn't understand that line of thinking. Why do so may people think players don't know or believe the words coming out of their mouths?
Joe views players as intelligent people educated and experienced in public speech. Heck, Jameis himself wrote to Joe on Twitter and never said he didn't mean what he said; he simply wanted to emphasize that he respects all his coaches.
Joe just wants it clear out there that Joe believes Evans, Jameis and players in general are intelligent and know exactly what they're saying, especially when it comes to their own personal matters and feelings. That mindset won't be changing at JoeBucsFan.com world headquarters.