Jameis Winston Says He Told Himself To Disregard Coaching
February 14th, 2019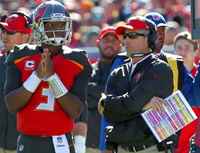 Leading up to the Super Bowl, America's Quarterback, Jameis Winston, put himself out there for the national media to probe his mind.
Prior to that, Jameis had stayed away from all national interviews since he was first publicly accused of grabbing a female Uber driver without permission and in an inappropriate area.
So Joe can only conclude that Jameis wanted the football world to hear from him. He wanted to answer the questions out there about his game and more.
A healthy chunk of what Jameis said left Joe confused, perplexed, stunned and/or head-shaking.
One question posed to Jameis by Tampa's own Leger Douzable, the former 10-year NFL defensive end, was an inquiry into how Jameis turned things around midseason, specifically how he got himself right mentally to return from an October benching.
Jameis said it was all about self-evaluation.
"I had to look at myself in the mirror and say, 'Hey Jameis, what do you have to do?' Jameis explained. "And that was simply, 'Get back to playing Jameis Winston football. Be yourself. Have that swag. Don't try to be something that a coach is trying to get you to be.' You know, you gotta go and be you."
Well, that there is easily the greatest piece of evidence yet that Jameis was very down on his past Bucs coaches.
Also at the Super Bowl, he said now is one of the first time coaches have had his back and trusted him in four years, a take Joe found ridiculous but important because it reflects Jameis' mindset.
As for Jameis earnestly advising himself not to be what coaches want him to be, well, good luck succeeding if you retain that attitude, Jameis.