Combine Interviews & A New Bucs Coach
February 26th, 2019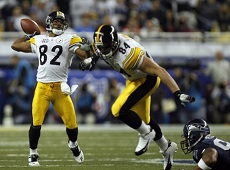 Back when Charlie Weis was the Patriots' offensive coordinator, he was part of the NFL Scouting Combine interview of a new Bucs coach, a member of the oversized Bruce Arians friends-and-family staff.
Weis will never forget it, so he explained last week on SiriusXM NFL Radio.
At the Combine, which is now underway in Indianapolis (yeah, Joe is here), teams interview a nearly endless stream of potential draft picks. Most clubs try to rattle the college prospects to get them out of their comfort zones because the college guys are heavily prepped for interviews by agents and handlers.
Weis told a story of how the Patriots, coming off a Super Bowl win weeks earlier, planned to throw a Super Bowl champions hat at their 2002 predraft interviewees upon their arrival for the interview. The goal was for them to catch it and gauge their response, just another method to throw them off their games.
Well, the hat was thrown at receiver Antwaan Randle El, who eventually had a nice nine-year career for the Steelers and Redskins that included 12 playoff games and a Super Bowl ring. He's now a first-time NFL assistant in Tampa under Arians, his coordinator in Pittsburgh. Randle El caught that hat, Weis said, and immediately started yelling "that's what I'm talkin' about" to Bill Belicheat and friends before explaining that he's all about winning.
Weis said the poise, intensity and sincerity of Randle El let him know immediately that he'd be a successful NFL player and Team Belicheat agreed. Randle El was a late second-round pick of the Steelers.
Joe brings this up today because the Bucs have started that interview process this week in Indy. It certainly will be different this year with Arians setting the team direction and tone.
As for Randle El, he retired after the 2010 season and comes to the Bucs from a gig as a high school athletic director and basketball coach. Randle El should be a very interesting presence around One Buc Palace — and possibly during this week's interviews.