Jameis Talks About Playing To Win While Playing Not To Lose
February 3rd, 2019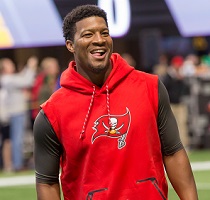 The Friday cruise of America's Quarterback through Radio Row in Atlanta sure was revealing in many ways.
Jameis Winston decided to open a window to evolving mindset. (Fell free to scroll down on the JoeBucsFan home page. There's lots to soak in.)
While talking on SiriusXM NFL Radio, Jameis was asked a question about what he sees in his game that needs to improve. "What are you seeing that you got to do on the real to improve and to more importantly get the Ws that we talk about you guys do at the quarterback position?"
The question came in a film context, as in what in your on-field game has to upgrade. Jameis decided to go to the mental card.
"I think the biggest thing that I've learned over my career; you gotta play to win the game but you can't be the one to lose the game for your team," Jameis replied. "You don't have to be the one to throw the game-winning touchdown. You don't have to be the one to be the reason why you won. You just can't be the reason why you lose. Through a couple of different mentors, we've just kind of worked through that process and they've helped me along the way."
Man, Jameis sure does think a lot.
Hard Knocks devotees will remember the 2017 scene of Dirk Koetter lecturing Jameis on how he is the only one who can single-handedly lose a game for the Bucs. It seems Jameis needed personal mentors to accept the message 20-something games later.
Yes, it's called maturity.
Jameis is talking the talk, and that's great. But he's nearing the end of the line. If he's going to keep being an inconsistent player, then the Bucs will surely replace him.