Is Raheem Morris Blacklisted?
February 3rd, 2019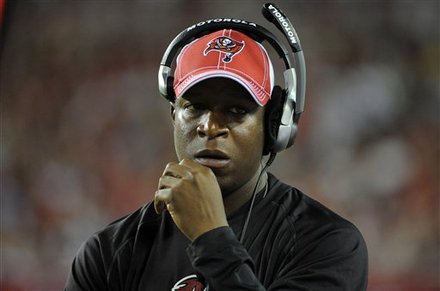 This just gets under Joe's skin.
Of course, Joe was up in Atlanta for a few days last week gathering all sorts of Bucs nuggets from people. So some of the nationally televised weekday NFL shows Joe regularly watches were missed because Joe's 65-inch HDTV was home.
Thank goodness for the DVR.
Catching up on some of these shows, in particular,"Pro Football Talk Live" hosted by the creator, curator and overall guru of ProFootballTalk.com, the great Mike Florio, one included the mention of Belicheats offensive coordinator Josh McDaniels possibly getting an NFL head coaching job.
Good grief, McDaniels' agent must be Lovie Smith's son/agent the way this guy gets so much good press and the way national media types just slurp this guy.
Joe is not outing Florio in any way here. Joe likes and respects Florio a great deal. There must be chatter behind the scenes of McDaniels if Florio would spend valuable time bringing it up on his show. And Florio is as well-plugged in as there is in media circles.
Why oh why do so many people have their collective heads up this McDaniels guy's rear? What has he exactly done? It's not like Bill Belicheat's coaching tree has multiple Super Bowls. Bill O'Brien is an OK coach. Mike Vrabel? Eh. He took over a playoff team and they missed the playoffs. Whoopee!
The rest of Belicheat's coaching tree has been an unmitigated disaster as head coaches, including McDaniels, who never had a winning record in two years as Broncos head coach. He finished with a three-win season and had the brainstorm to decide Tim Tebow was a first-round pick.
What a resume!
And yet this guy is talked about for openings like he's some second-coming of Mike Holmgren.
For reasons unknown, former Bucs coach Raheem Morris cannot sniff a job. His worst season as Bucs coach matched McDaniels' worst season (three wins in 2009). Unlike McDaniels, Morris at least had a winning season on his resume. He somehow guided the Bucs to a 10-win season in 2010.
Go look at that roster. It's unreal how Morris won 10 games (was robbed out of an 11th win and a playoff berth).
And unlike McDaniels, Morris never said yes to a job offer and then just as a press conference was to be held to introduce him as Colts head coach, welched and bailed (probably a damn good thing for the Colts).
It just confuses the hell out of Joe how people are so quick to link a skunk like McDaniels to jobs, yet it seems Morris can't even buy any interviews that smell of token Rooney Rule sitdowns.
Is this just that people are drunk from panting over Belicheat's assistants and grossly overrate them, or is Morris simply blacklisted by the NFL?