Injuries For Chris Godwin "80, 90 Percent Of The Season"
February 3rd, 2019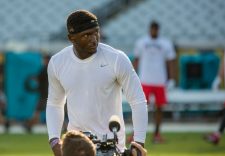 It was not just Jameis Winston and DeSean Jackson representing the Buccaneers roster at the Super Bowl and the media frenzy known as Radio Row.
The guy who should make Jackson old news, receiver Chris Godwin, was there as well.
Godwin had plenty to tell SiriusXM NFL Radio.
Some highlights:
*Godwin dealt with a rash on injuries last year but still had 59 catches, 842 yards and 7 touchdowns. "Nobody goes through completely healthy and I was not an exception. I was dealing with some injuries, you know I would say 80, 90 percent of the season," Godwin said. "That's not like an excuse or anything, as a professional you have to come ready to play."
*Coaches did a great job for two years getting lots of reps for Ryan Fitzpatrick, in addition to Jameis, Godwin said, to the point there was no adjustment between QBs. (Godwin may not have consulted with Jackson before making that comment.)
*Knowing when to sit in zones, route details, etc., are examples of things Godwin improved on as a second-year player.
*Godwin said Dirk Koetter greatly helped him develop primarily because he was so honest. Godwin said he never had to wonder if any aspect of his performance was right or wrong. Godwin cares greatly about the nuances of the game and Koetter was very detailed with him.
*Bucco Bruce Arians and some staff members met Godwin last week, he said. Godwin added the Cardinals showed no interest in him in the NFL Draft back in 2017, so he had no ties.
Joe will have more from Godwin soon.