2018 Offense Defined Balance?
February 9th, 2019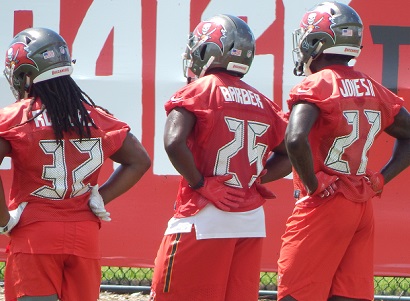 Bucs general manager Jason Licht believes the Tampa Bay offense last season was among the very best in the history of NFL football.
Joe remembered that ludicrous take today upon hearing another insider assessment of the offense.
Man, that Bucs attack was balanced last season, if you believe ousted offensive coordinator Todd Monken. The new Browns OC was talking Bucs to the Cleveland media and shared his controversial view.
Despite a weak running game, Monken said what you saw from the Bucs last season was a highly balanced attack.
"I think balance is multiple skill players touching the football, to me it's not always just run-pass," Monken said. "It's do you have enough skill players that they can touch the football. Last year at Tampa we had, almost had six guys guys if O.J. doesn't get hurt, of 700-plus yards from the line of scrimmage.

"To me, that's balance. You have a number of guys that can hurt you from a match-up standpoint. Is running the football important? Sure. Because in order to win you've got to be explosive and not turn the ball over. How do you become explosive? Space players and throwing it over the [defense's] head, or throwing intermediate pockets. Running the football adds to that."
Joe is a big Monken fan, but the numbers obsession is getting a little crazy. The object of the game is to score points. The Bucs averaged just 20.8 points per game through the second half of the season. That's awful, as well as embarrassing for a team with so much offensive talent and a healthy offensive line.
The notion that the Bucs offense was somehow balanced last year is goofy. In fact, getting the offense to be more balanced this year might be the No. 1 goal of the Tampa Bay offseason.