Todd Monken Raves About Jameis Winston At His Introductory Browns News Conference
February 9th, 2019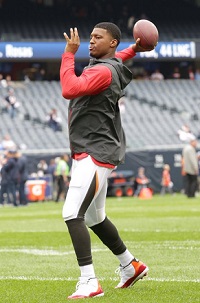 Telling stuff right here.
Haters of Jameis Winston, America's Quarterback, might want to find a sedative.
Former Bucs offensive coordinator Todd Monken now has the same job with the Browns, and Monken met the Cleveland media yesterday for the first time as part of a formal news conference. Quality Bucs chatter emerged.
First, Joe found it compelling that in the buddy-system league that is the NFL (see Bruce Arians' coaching staff) Monken revealed that he never met new Browns head coach Freddie Kitchens before getting hired a few weeks ago. That's big-time respect for Monken the man. And it's even more interesting because Arians was Kitchens' mentor.
Anyway, Monken was asked about now coaching another No. 1-overall-pick quarterback, Baker Mayfield, after working with another No. 1 overall pick in Jameis. Would that help Monken understand Mayfield's mindset? he was asked.
"Oh, I don't know. The one thing that I hear about Baker, similar to Jameis, Jameis is a tremendous young man," Monken said with great passion in his voice. "He loves football. He's very intelligent. He's passionate about it. He owns it. Those are all the things I hear about Baker, a guy that loves football, loves to compete, loves to be around the building and owns his mistakes, which is a great start."
Candid Monken absolutely didn't have to go out of his way to glow about Jameis like that. But he did.
That doesn't take away the fact Jameis is inconsistent and a master of turnovers, but it should let you know Jameis is on the right track and ripe for Arians to make him great again.