Winners & Losers At Dawn Of The Arians Regime
January 14th, 2019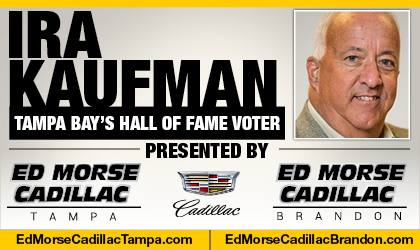 BY IRA KAUFMAN
The Bucs have decided that Route 66 is the preferred path to the playoffs.
Bruce Arians, whose birth certificate was issuedW 66 years ago, is eager to turn back time and duplicate the job he accomplished in Arizona, where he inherited a 5-11 club and immediately doubled the win total.
That Cardinal franchise was a bottom feeder, much like the Tampa Bay club Arians is determined to transform. He is already on record as saying this reclamation project is easier because the 2018 Bucs have more talent than those 2012 Cardinals.
You know the churn that occurs at the bottom of every team's roster every season? Based on history, this pewter overhaul won't be confined to backup spots.
Arians hit the ground running in the desert, taking a hacksaw to the Cardinals. When he was finished, Arians had replaced 15 of the 22 starters who lined up for Arizona's 2012 finale.
Some Bucs are poised to thrive under new management, but some familiar names face an uncertain future. Here's a look at the potential winners and losers at the dawn of the Arians regime.
WINNERS
JAMEIS WINSTON
Entering his fifth NFL season, Winston couldn't have asked for a better scenario. Arians has been keeping tabs on Winston since their first meeting at a Birmingham football camp. He believes he can
minimize Winston's penchant for giveaways while playing to his strengths.
It's still unclear whether Dirk Koetter ever fully embraced the first overall pick in the 2015 draft. Koetter didn't have significant input in deciding between Winston and Marcus Mariota and the relationship
was strained at times.
Between his suspension and his benching, Winston's ego took a beating in 2018. He lost Koetter's confidence in midseason, so here comes Arians with a helping hand. If Winston doesn't elevate his game next fall under the quarterback whisperer, he'll become some other team's project.
CAMERON BRATE
Some Buc fans can't wait to trade Brate, whose targets and production plunged last year. Arians will likely have other ideas. He believes a 2-tight end formation gives the offense the ability to dictate
coverage and Brate has proven his worth with 20 TD catches since 2016 — only five less than Mike Evans.
O.J. Howard made significant strides last year before he was hurt and Brate can't stretch the field like his gifted teammate, but there's a place for him on this roster. Brate rarely drops a ball and his rapport with Winston, especially in the red zone, is well documented. He's not going anywhere.
LOSERS
DONOVAN SMITH
It seemed like Koetter went out of his way every week to chastise Smith's many critics. Arians and his staff will bring a fresh set of eyes to the tape, and that may not bode well for a 4-year starter at
the critical left tackle position.
Smith's durability is very impressive, and that should not be overlooked. He plays through the aches and pains, but he may not play well enough for the standards set by this staff. Arians is already on
record as saying Tampa Bay's offensive line needs an upgrade. He used the word "consistency" to describe the unit's drawbacks. That's a word often attached to Smith, even by his supporters.
GERALD MCCOY
Arians has been coy about McCoy's future in Tampa.
The late-season development of Vita Vea could convince defensive coordinator Todd Bowles that Vea is a natural fit at nose tackle in a 3-man front. If that happens, McCoy might be deemed expendable after a
distinguished 9-year career with the Bucs.
If Kendell Beckwith fully recovers from that brutal ankle injury, I can definitely see the Bucs switching to a 3-4 base defense for the first time since 1990, the final year of the Ray Perkins era.
---
DERRICK BROOKS & IRA KAUFMAN talk about the BRUCE ARIANS hire on TAMPA TWO, presented by Caldeco Air Conditioning & Heating.