Lynch Rewarded; Ronde Stiff-Armed
January 3rd, 2019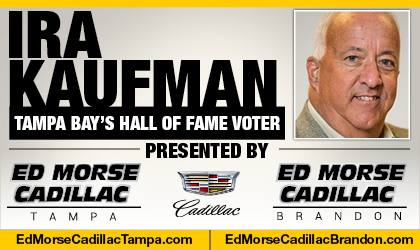 BY IRA KAUFMAN
For John Lynch, another opportunity. For Ronde Barber, another stiff arm.
The Pro Football Hall of Fame had its say Thursday and Lynch made the list of 15 finalists for the sixth consecutive year. As Tampa Bay's lone representative on the panel, I will be making another presentation for the 9-time Pro Bowl safety when selectors meet in Atlanta on the day before the Super Bowl.
The news wasn't nearly as cheerful for Barber, who once again failed to make it into the meeting room in his second year of eligibility.
This disrespect for an All-Decade cornerback is puzzling, especially with five defensive backs advancing into the final group.
I feel very happy for Lynch, who gets another shot to earn a bust in Canton next to former teammates Derrick Brooks and Warren Sapp. The competition is fierce, with fellow safety Ed Reed and tight end Tony Gonzalez assured of gold jackets in their first year of eligibility.
A maximum of five modern-day candidates can be elected in any one class. Gonzalez and Reed have two spots secured while another first-year eligible, Champ Bailey, is sure to receive serious consideration.
If all three make it to Canton, that would leave the other 12 finalists dueling for only two slots.
That's a difficult scenario for Lynch, but he has been a finalist longer than anyone else in that meeting room, and that should work in his favor. The selectors keep bringing him back, suggesting he has solid support.
It's my job to help him across the finish line.
Barber's omission is tough to swallow for Buc fans and anyone who watched him define the position of slot corner.
His durability is historic for the position and Barber's versatility is off the charts. He also turned in the biggest play in franchise history with that interception return in Philadelphia for a touchdown that clinched a Super Bowl berth.
Besides Bailey, Gonzalez and Reed, two other candidates are finalists for the first time — defensive lineman Richard Seymour and Tom Flores, who coached the Raiders to two Super Bowl victories.
Safeties have been traditionally overlooked by Hall of Fame selectors, but Brian Dawkins beat out Lynch a year ago and Reed is a slam-dunk for the Class of 2019. Lynch's other competition at defensive back include Bailey, cornerback Ty Law and Steve Atwater, another hard-hitting safety.
Barber, who played his entire 16-year career with the Bucs, has advanced to the semi-finalist stage in each of the past two years, only to be eliminated with the cut from 25 to 15.
"Ronde did things other cornerbacks didn't," says Steelers coach Mike Tomlin, who coached Barber as an assistant in Tampa. "His involvement in defending the running game and the blitz game were really special and he was at the forefront of what we now call the nickel position."
After two years of making it to the final 10, Lynch was eliminated in the initial cut from 15 to 10 in 2018. But he has retained enough support from the 48-member board to reach the finalist stage every year since 2014.
"For a guy who had everything," Barber said, "John Lynch worked even harder for everything. He's the guy I respected most in this league."