Cameron Brate Trade Rumor Circulating
January 18th, 2019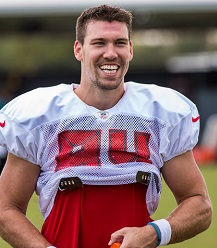 Joe's not big on publishing rumors — if Joe were, these pages would be filled with them — so Joe had to do some research on this source before posting this.
Apparently, across the United States, a lot of reputable outlets are willing to quote Chad Forbes, who is found on Twitter pumping out all kinds of draft info from scouting-related events he attends. They include CBS Sports, and Forbes has been a guest on many sports radio stations including the powerful WFAN in New York.
It seems Forbes has been a busy guy in St. Pete this week at East-West Shrine Game practices.
Yesterday, among the many nuggets Forbes was Twittering, he claimed Bucs tight end Cameron Brate is available in a trade.
From #Buccaneers Source team won't 'Shop' TE Cameron Brate but he's available in a trade. Deep FA TE Class & Brate just signed extension last offseason. At $7M might be value & worth a draft pick. Bucs working through ideas on creating cap flexibility.

— Chad Forbes (@NFLDraftBites) January 18, 2019
Joe would understand a Brate trade. What's more valuable to this team right now, a quality free agent cornerback or Brate?
No, Joe is not lobbying to trade Brate, but there aren't many teams paying their No. 2 tight end big money.
Injuries might be a factor here — in multiple ways. O.J. Howard has finished both of his NFL seasons on injured reserve. And remember, Dirk Koetter said Brate was hurt "from Day 1" this season and Koetter wouldn't comment when Joe asked him if Brate needed offseason surgery.
Lastly, major roster overhaul is coming, which always means a fan favorite or two or three gets the boot. Might Bucco Bruce Arians might prefer to buy a running back?