DeSean Jackson Tells TMZ He Hasn't Talked To Bruce Arians And He Doesn't Know If The Tampa Situation Can Be Fixed
January 18th, 2019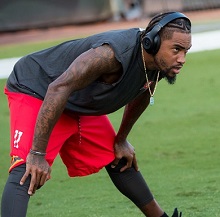 TMZ hunted down I-hate-Tampa receiver DeSean Jackson at Los Angeles International Airport and talked Bucs with him this week.
Damn, Jackson just exudes disdain for his team.
That doesn't mean Jackson hates all his teammates and would pass on collecting another $10 million from Team Glazer this season if they are foolish enough to cut the check.
TMZ asked Jackson whether he has talked to new head coach Bucco Bruce Arians, who allegedly has been hoping to re-recruit Jackson, even though he's already on the roster. Jackson said he hasn't talked to Arians.
TMZ asked if the situation can be fixed for Jackson in Tampa. Rather than say there is no situation, Jackson says he doesn't know.
Jackson never says he wants to keep playing for the Buccaneers, but he does say a couple of times that his agent is the key to all the answers.
What a teammate!